DSL Automated Functional Testing
DSL (Digital Subscriber Line) technology is still frequently used in many parts of the world, despite the rise of newer internet technologies like cable internet and fiber-based networks. This is why DSL testing of CPE is important in order to foster quality, interoperable DSL systems. DSL allows for the transmission of digital data over copper phone lines and is still an ideal solution in areas where other types of networks are not available or do not offer consistent, high-quality connections. DSL is also attractive mainly because it uses installed infrastructure.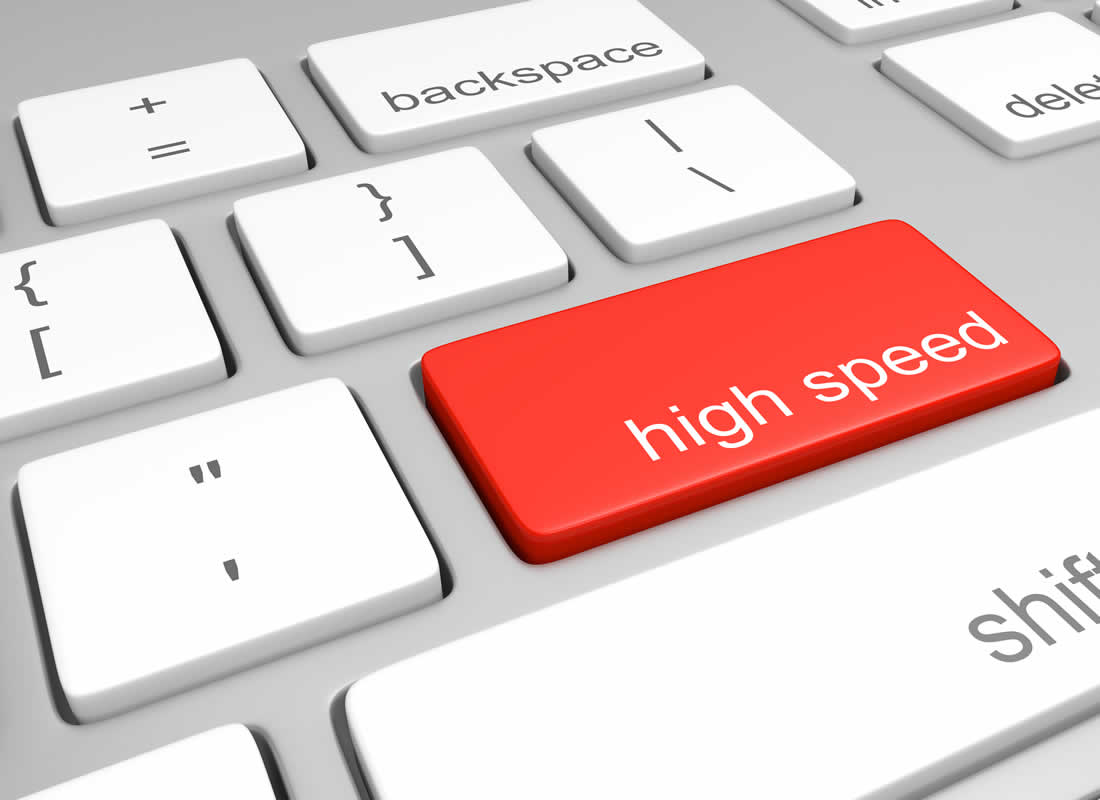 Leveraging technology over copper lines is a cost-effective solution for operators today. With the cost of running Fiber-to-the-Home still high enough to encourage copper-based solutions, xDSL offers a viable alternative. Copper represents a valuable installed infrastructure, and Fiber can be considered too expensive to simply replace all of the installed copper lines. With this in mind, DSL-based technology may be around for many years in some form, so DSL modem and wireless router testing toolsquality tests are needed to ensure optimal internet speeds. Traditional ADSL2 and VDSL2 have offered distance-relative speeds, with VDSL2 offering 100 Mbit/s at 500m (1640.42ft) and 50 Mbit/s at 1000m (3280.84ft). ADSL2 and other previous technologies offer even lower performance, with performance degrading the further from the source of the signal the xDSL modem is installed. Other DSL technologies like G.fast offer a higher-speed (up to 1 Gbit/s) alternative to pure fiber and cable, and can be used in a hybrid network where fiber is brought to the curb (or an MDU) and the internal copper wiring then delivers the G.fast service to the customer or customers. XG-FAST has promised speeds up to 8X over 100 meters.
Maximum Theoretical DSL Speeds*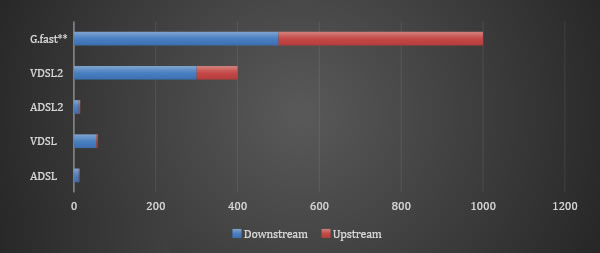 * Distance degradates speed
** Shared upstream/downstream traffic
xDSL technology utilizes a DSLAM (digital subscriber line access multiplexer) which acts as a controller connecting multiple DSL-based devices to a high-speed digital internet connection. Depending on the technology used, as listed above, a particular type of DSLAM will be used for different device support. An ADSL2 modem needs a compatible DSLAM, and the same holds true for G.fast, VDSL2 or other similar technologies. Some of these technologies can coexist in the same DSLAM. Much as a fiber network uses an OLT (Optical Line Terminal) and a DOCSIS cable network uses a CMTS (Cable Modem Termination System), a DSL network needs a DSLAM to operate properly.
DSL Customer Premise Equipment
High-quality, fully-functioning DSL-compatible routers and modems are essential for customers to get the most out of their digital connection, as well as testing tools for those DSL modems and wireless routers, regardless of the type of DSL device that is used. At Promptlink Communications, we can help. We offer an all-in-one integrated DSL testing solution that can accommodate up to 20 DSL devices at once and provide DSL automated functional testing solutions for your telecommunications company, laboratory or 3PL testing needs. This way, you can rest assured that your customers have only the highest-quality device functionality when you provide them with CPE for their homes and businesses.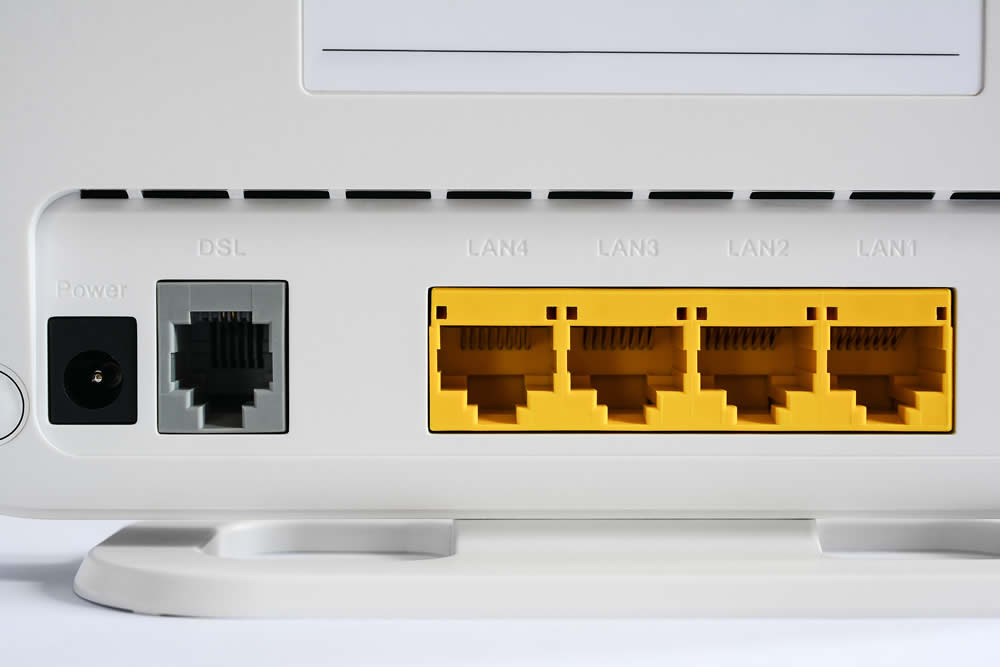 What Promptlink Can Offer
Our flagship testing product is the CPE ATLAS, which is a high-volume DSL testing tool that can be used to test up to 20 xDSL devices at once, including routers and modems. This ensures that your DSL subscribers have reliable hardware that will help them make the most of their internet connection. Multiple DSL technologies, as listed above, can be supported by a single CPE ATLAS system, along with FTTH, DOCSIS and much more.
In addition, the CPE ATLAS is completely automated and can run through a variety of pre-built and customizable quality DSL tests to check data, wireless, and voice functionality on all DSL devices. It has full ACS support, as well as Promptlink's Patented Wireless Shielded Enclosures for isolated Wi-Fi testing.
Why Promptlink Is The Right Choice
Not sure if our DSL modems and wireless router testing tools are right for your telecom company? Here are a few reasons to choose us if you offer DSL services.
Fully automated testing
All DSL testing of CPE can be done with the push of a button and the CPE Atlas supports parallel testing that can double or triple overall throughput.
Wide compatibility
The CPE ATLAS works with DSL as well as DOCSIS and GPON devices, so you can test DSL network CPE as well as cable and fiber devices using a single tool.
Repeatable and reproducible
Promptlink products have led the industry, performing DSL testing on hundreds of millions of CPE devices over the years. No special training is required to administer tests using the CPE ATLAS, and reading the results is simple, reducing the overall cost of ownership and enhancing efficiency. Our test scripts have proven to be reliable in deploying working devices to customer homes.
Conduct a wide variety of quality DSL tests without sacrificing throughput
The CPE ATLAS allows for a wide variety of different DSL automated functional testing to be performed, while still offering fast results. Additionally, it even can be used to upgrade device firmware, further simplifying device testing and administration.
Request A DSL Testing Demo Today & Get Started With Promptlink
Telecom companies, testers, and other companies involved in the operation and support of DSL networks can enjoy a wide variety of benefits when using the CPE ATLAS test platform. To learn more about the CPE ATLAS and other DSL modem and wireless router testing tools from Promptlink, reach out to our team today to request a demo and more information.