CPE ATLAS
Up to 20 Cable Modem, Router, DSL and GPON devices tested in parallel
High-Volume Wi-Fi 6e and Multi-Gig Broadband CPE Tester
Promptlink's CPE Atlas is a next-generation SNMP-based tool designed to test the functionality of DOCSIS/EuroDOCSIS cable modems, wireless routers, DSL, GPON ONT/ONU devices, and other upcoming technologies. This automated cable modem bandwidth and functionality test software allows operators, OEMs and independent test companies to perform testing and verification on any of these devices faster and with more features than the original, industry-standard CMTP.
Automated CPE Tester Support Multiple Technologies on a Single Platform
GPON, EPON, XGS-PON and 10G Devices
CPE ATLAS now supports testing of FTTH technology, with data, voice and wireless testing ability for 10G, GPON, XGS-PON and EPON CPE.
DOCSIS Devices
CPE ATLAS has broad support for all DOCSIS environments and even offers support for high-speed DOCSIS 3.1 devices. Wi-Fi 6e and multi-gig Ethernet speeds are also supported.
DSL Devices
CPE ATLAS can test all DSL devices, including data, wireless and voice functionality. All DSL technology is supported, including full ACS support.
Wireless Routers
Full support of wireless router testing is enabled, including full ACS support.
Promptlink's CPE test continues support for all equipment vendors, impartially treating each vendor's devices with maximum performance and minimum hassle.
Fully Automated Parallel Cable Modem, Fiber and DSL Testing Software
CPE ATLAS is fully automated, requiring no user input for testing, and now tests all devices in a parallel mode that doubles or triples throughput compared to the original CMTP.
Repeatable and Reproducible
The Promptlink CPE Atlas creates an easy, repeatable process that requires no specially trained personnel. The combination of purpose-built hardware and feature-rich software creates a solution to the issue of returned and suspect cable modem-based devices that need testing by non-technical personnel.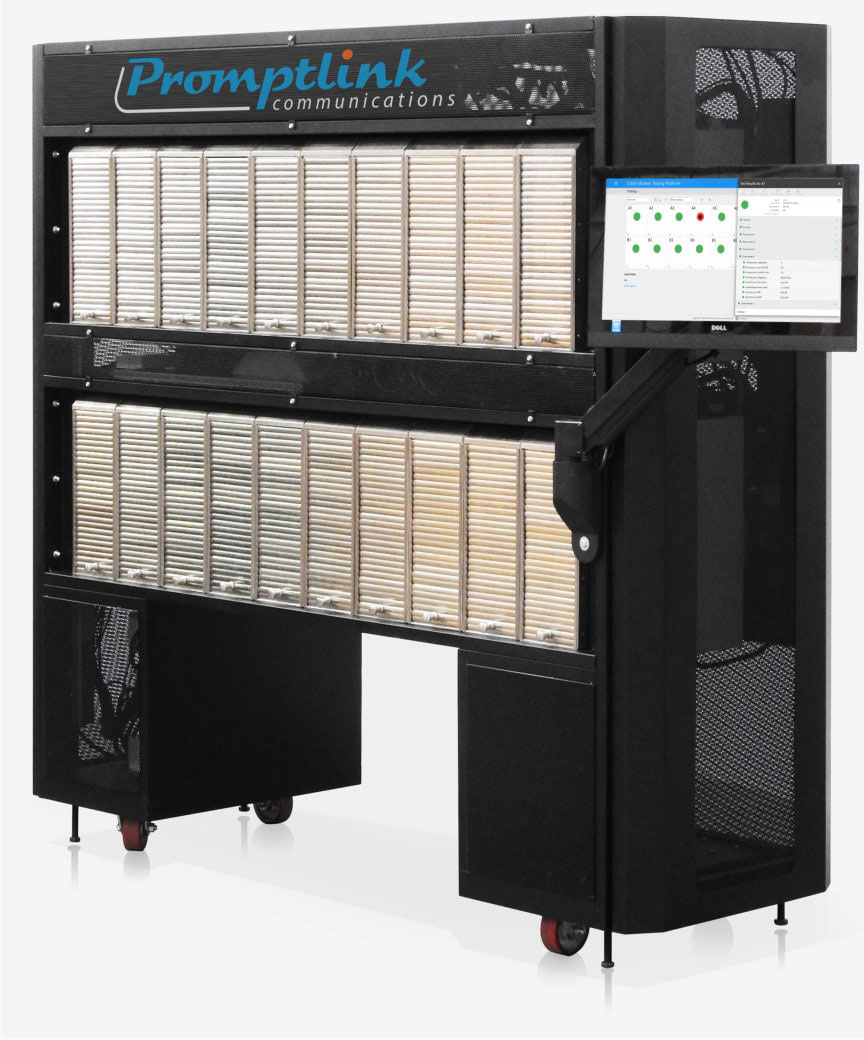 High-Volume Wi-Fi 6e CPE Testing and More
CPE ATLAS tests the basic data, voice and wireless parameters as well as offering a shielded Wi-Fi testing environment for accurate testing in the most congested Wi-Fi environments*.
With Wi-Fi being the key component in customer connectivity, Promptlink offers the most cost-effective way to validate the hardware functionality of all of your Wi-Fi devices, including bandwidth, all the way up to Wi-fi 6e speeds.
As with CMTP, CPE ATLAS tests each phone port individually, with maximum functionality being tested, plus CPE ATLAS tests up to 5 Ethernet ports in parallel.
cable modem bandwidth test software can also be configured to upgrade the firmware of your devices in an automated, multi-step and conditional process. This guarantees that your devices are tested using the same firmware used in your live network.
*The level of shielding needed for some testing may require advanced shielding at an additional cost
CPE ATLAS Demo Video
CPE ATLAS was designed for automated firmware upgrades and device testing. With the addition of parallel testing, the entire testing process runs in batch mode, testing up to 20 devices automatically and in parallel. No other competitive CPE tester comes close to this throughput for mass testing of devices.
CPE ATLAS Mini
Introducing CPE Atlas Mini – Offering GPON, DOCSIS, DSL, Wireless, and Broadband CPE Testing in a Compact Size
Duplicate Functionality for Less
CPE Atlas Mini gives you everything you expect from CPE Atlas. This includes testing of GPON (FTTH) CPE, DOCSIS and DSL CPE, and a shielded and patented Wi-Fi Enclosure for isolated Wi-Fi testing. Whether you are a 3PL, a network operator or test lab, CPE Atlas Mini gives you the flexibility to test like the biggest deployments without the same expense. Our Atlas Mini cable modem bandwidth test software gives you a 4-position, parallel testing option that provides Wi-Fi isolation for Wi-Fi throughput testing up to Wi-fi 6e.
Big Power Without the Big Size
CPE Atlas Mini also provides the same full functional testing of devices as a full 20-position CPE Atlas. You can test the latest technology in any combination of DSL, PON, DOCSIS and generic wireless routers, all at the same time on the same CPE tester. CPE Atlas Mini supports the same functional tests, using a CMTS, an OLT, or a DSLAM to provide a fully functional closed environment for refurbishing or qualification of network CPE devices.
Full Reporting
TThe same APIs and built-in reporting are also included in Atlas Mini, providing the user with a complete record of all CPE tests, as well and the ability to either export data or simply use the APIs to pull data into another system.
CPE Atlas functionality is now affordable for any size operator or refurbishment operation. The compact size makes it easy to incorporate CPE Atlas Mini into any size operation, and its portability makes it simple to move from one area to another as desired.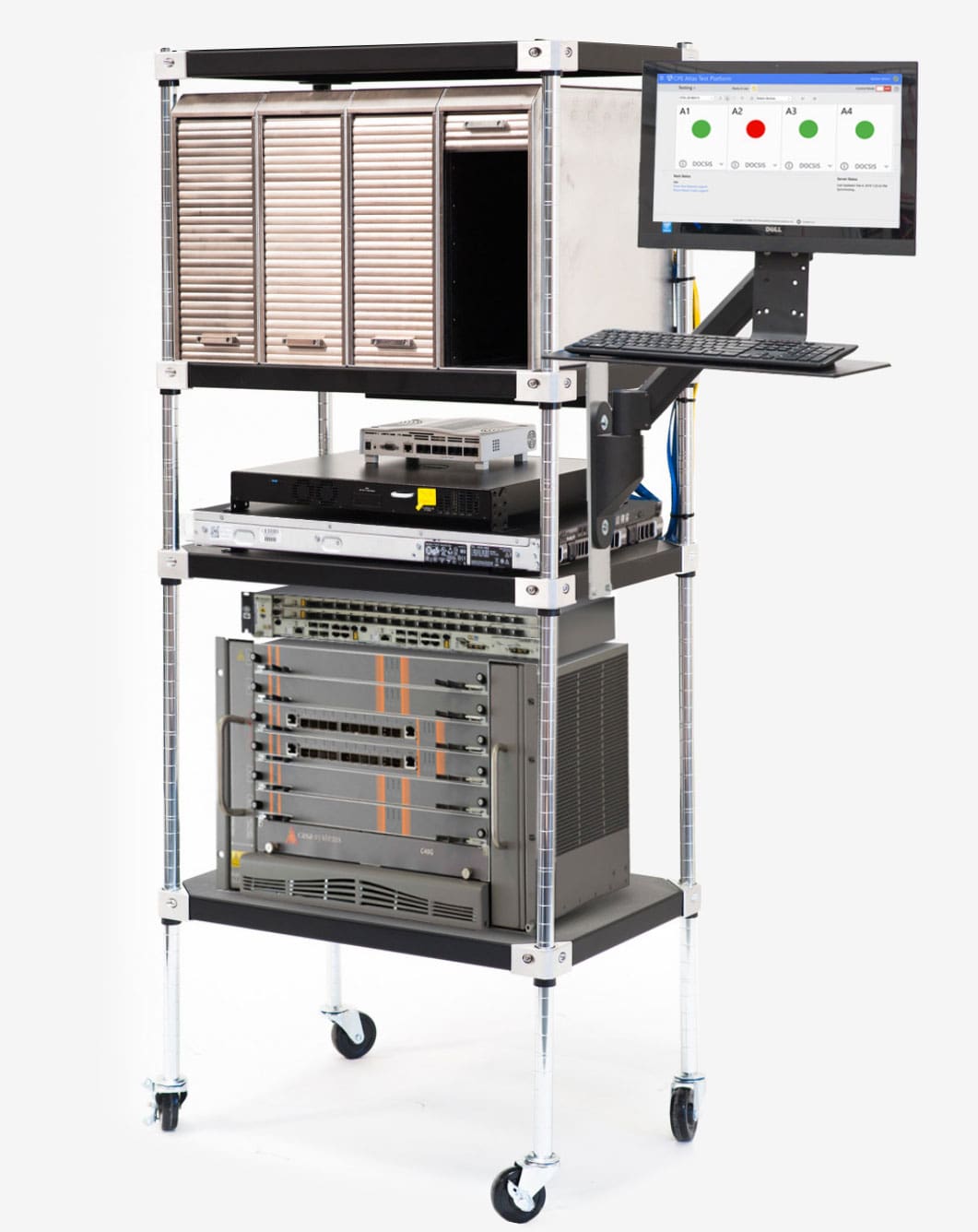 Get all the functionality that you need with CPE Atlas Mini – the Power of Atlas in a small package.