Set-Top Box Automation Testing Platform
High-Volume Automated STB Testing Systems
Promptlink's Set-Top Box Test Platform (STBTP) is a complete functional testing solution designed for the highest volume testing requirements. With only the highest-quality, highest-speed components, STBTP is the ultimate tool for accurate, high-demand testing of any set top boxes. With support for IPTV, satellite, DAC and DVB-based set-tops, STBTP is the solution that never leaves you unsatisfied.
Beating the Competition
Promptlink's high-volume STB testing systems give you the ultimate advantage: the knowledge and tools for accurately performing Set-Top Box Automation testing on equipment at the highest possible rate, without sacrificing the completeness of the analysis.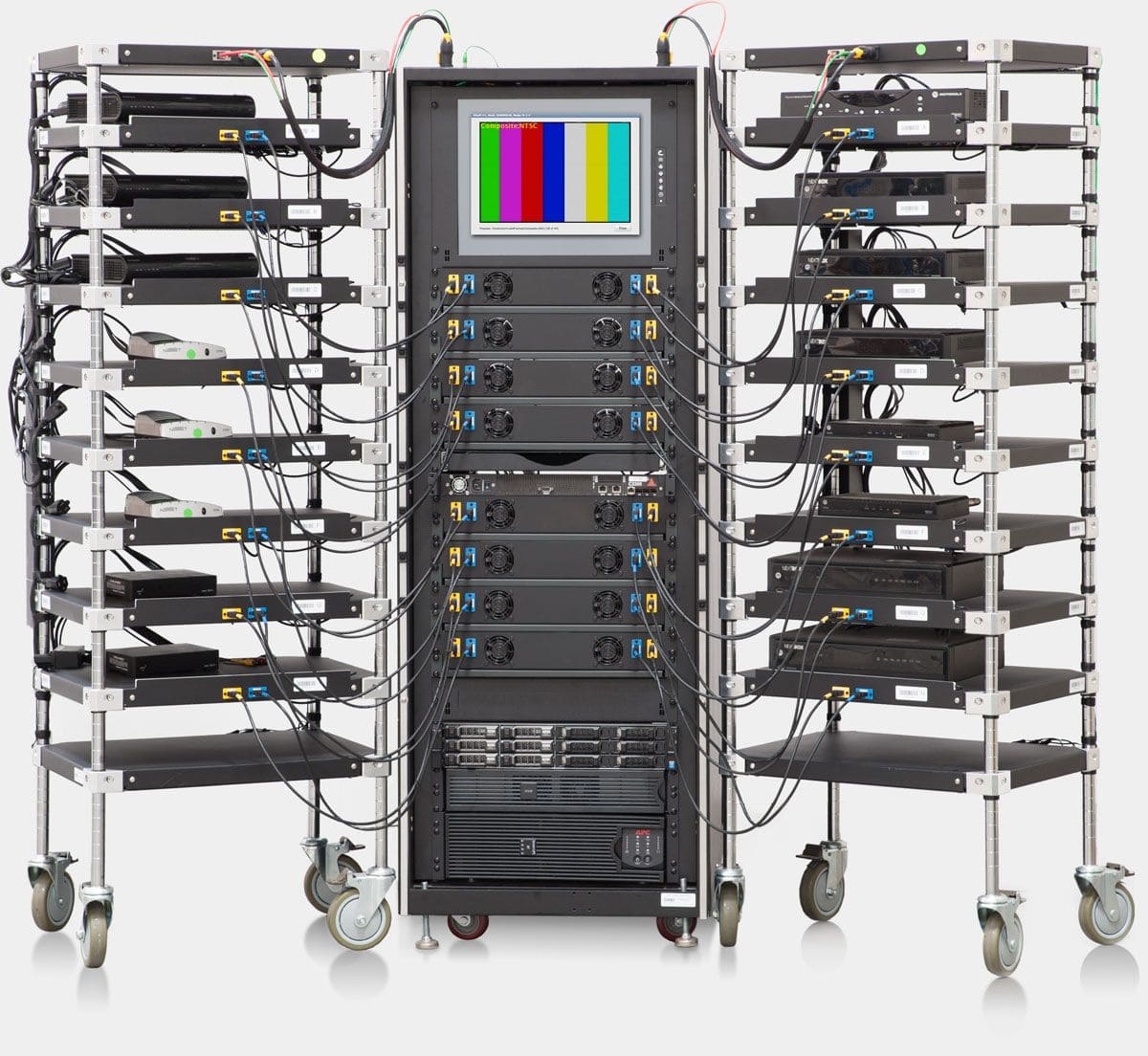 High-Volume Set-Top Box Testing System Features
Efficient and speedy testing, thereby controlling operational costs

Maximum uptime, helping to increase throughput

Minimum technical training required for testing personnel, lowering labor costs

Complete suite of tests without sacrificing throughput

Ultimate mobility with portable rolling racks, to allow for offline loading and unloading of equipment

Innovative handheld scanners provide test results independent from the test location
High Speed Set Top Box Automation Tester Functions
Scans devices into the testing database

Initializes the STB for testing

Checks the device state

Test IR Remote functions

Pushes multiple video and audio streams through the device

Test multiple frequencies (up to 12)

Checks all outputs and resolutions (native resolutions)

Tests DVR where applicable

Validate firmware version

Stores data for later analysis
STB Testing Platform Modular Design
The STBTP system is a turnkey and modular system. This means that hardware nodes can easily be replaced without compromising throughput, since other nodes continue to operate. Redundant power and Data Center-quality servers ensure maximum uptime.
Repeatable and Reproducible
The key to any reliable and professional grade testing is that these two principles can be demonstrated. Promptlink's Set Top Box Automation Testing Platform reflects 20 years of testing experience at the highest standards in the industry.
STBTP Demonstration Video
Promptlink's STBTP is the Pinnacle of Fast, Accurate and Dependable Automation Testing Tools for Set-Top Box.