Network NoiseHawk—Hearing, Not Just Listening
Find Help with our Broadband Network Noise Diagnostic Software for HFC Cable Plants Today.
Broadband Network Noise Problems
Promptlink's Network NoiseHawk solves the ongoing problem of pinpointing network noise in the cable network. This problem has plagued DOCSIS HFC Networks for years, with limited tools available to find the problem area of the network. Whether it is a bad amplifier, bad tap or coupler, finding such issues usually involves many expensive hours spent driving around and searching for the damaged piece of equipment.
Competitors not Pinpointing the Problem
Current competitive solutions make you invest in expensive hardware to deploy in cable headends, and do not truly localize the upstream noise or ingress source. Promptlink Network NoiseHawk utilizes a Patent-Pending algorithm to analyze multiple sources of data, such as PNM (Proactive Network Maintenance) and SNMP (Simple Network Management Protocol) polling data, collected by Promptlink's Cable Plant Monitoring (CPM), to pinpoint the source of the cable ingress as finely as to a specific amplifier. Our broadband network noise diagnostic software for HFC cable plants is perfect for what you need in pinpointing the problem.
A Smarter Solution
Utilizing system maps and network hierarchy, combined with this algorithm, such pinpoint accuracy can be achieved. NOC personnel can use CPM's Alarm Dashboard functionality to find signal leakage or noisy components, then can direct technicians to the source.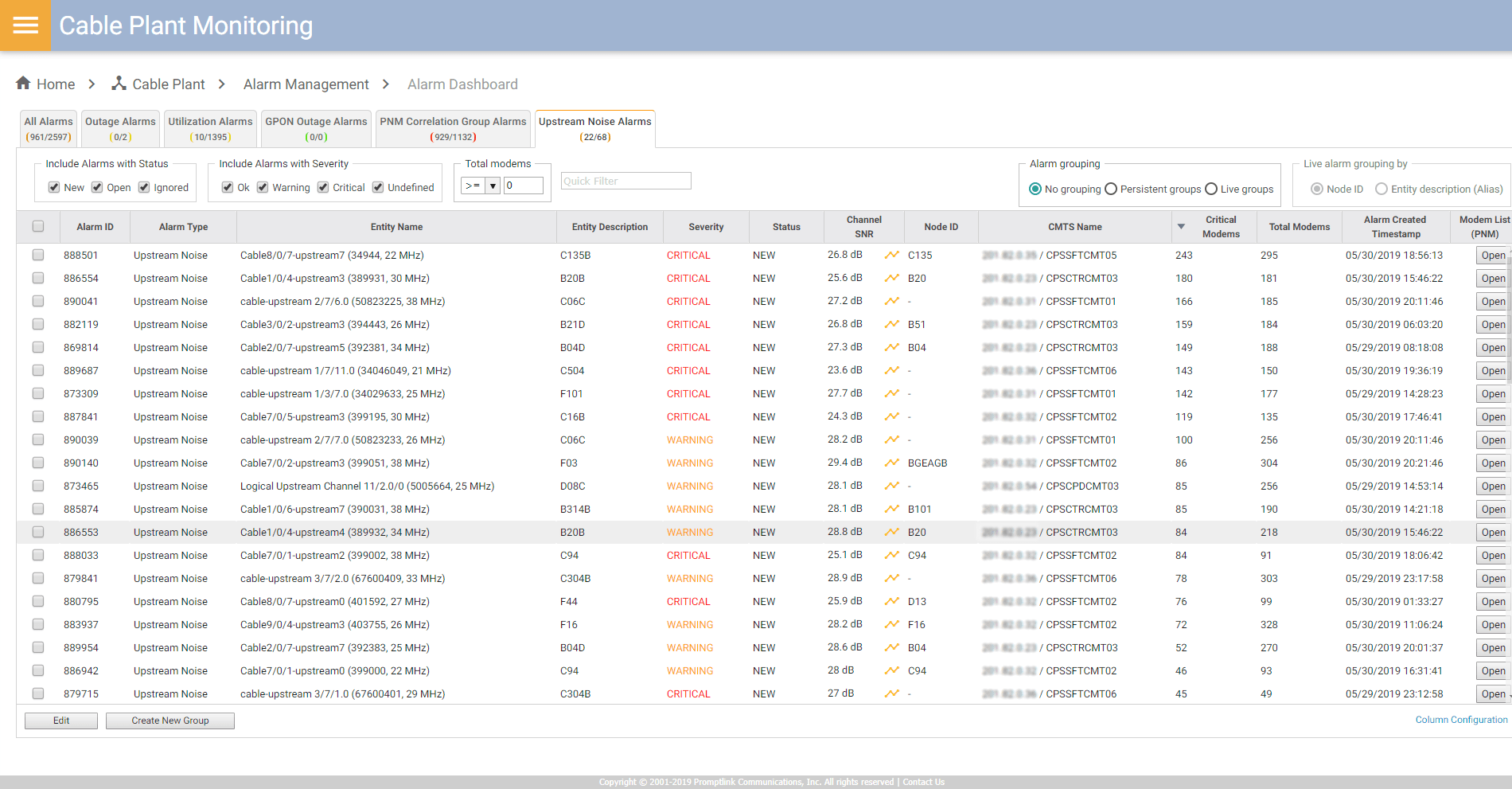 Additional tools allow for studying the characteristics of Upstream channels to pinpoint ingress or other upstream noise in a cable line:
as well as Upstream SNR history: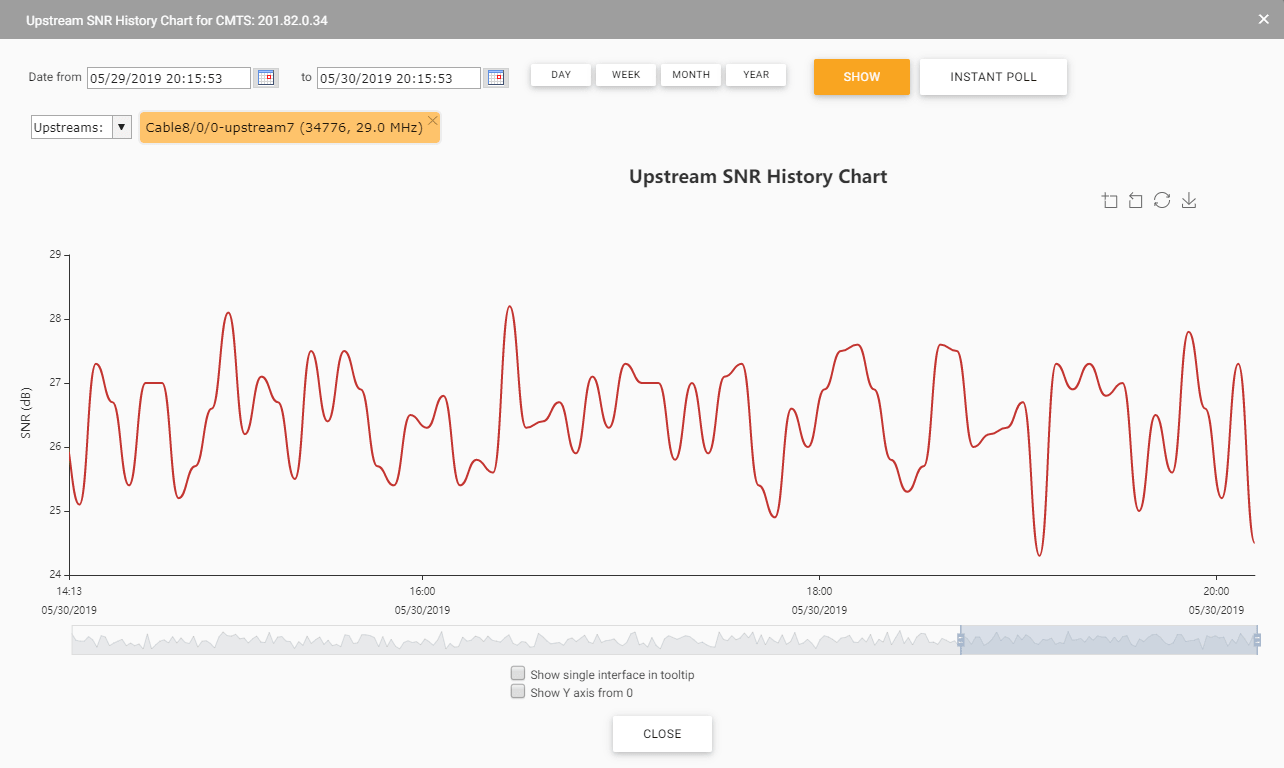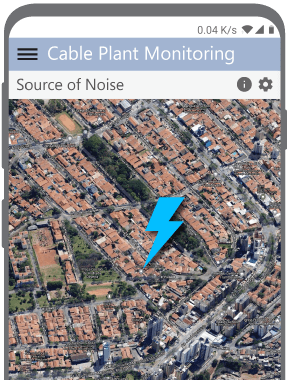 In the Palm of Your Hand
Network NoiseHawk isn't just fast, smart and inexpensive! It is convenient and simple to use.
A technician need only carry a mobile phone, where they can easily access the location in the plant where the cable ingress or other upstream noise is originating from. We provide the highest quality broadband network noise diagnostic software for HFC cable plant problems, and we will make sure to help you solve your noise issues.
Promptlink's software-only solution takes the guesswork out as well as the endless hunting for signal leakage or other upstream noise sources.
Budgetary Bonanza
By reducing the time and number of technicians it takes to locate noise on the plant, Promptlink Network NoiseHawk reduces truck rolls, ladder moves, time to completion as well as labor costs, as problems are solved quickly and easily without the CapEx expenditure of extra headend equipment. Fewer problems means higher customer satisfaction and lower inbound call volume. The ROI is amazingly positive and short.
See for Yourself
See how Network NoiseHawk can pinpoint upstream noise in your cable plant. The best way to experience it is to try it for yourself.
Contact us today to schedule a live demo for your network noise diagnostic software and ingress detection for HFC cable plants and many additional services!
Network NoiseHawk—Hearing, Not Just Listening
Network NoiseHawkAI takes the analysis out of the equation - Noise and Impairment Localization (NAIL) Reports are automatically generated and sent directly to a technician or dispatcher, directing them to the network component causing the noise. Promptlink's NoiseHawkAI's analysis engine does the work of analyzing multiple datapoints and presenting the root cause for easy repair. NoiseHawkAI can even guide your tech's through the steps to diagnose and repair the issue.
What is NoiseHawkAI?
Promptlink's NoiseHawkAI is an HFC network noise localization automation solution that takes the best of Network NoiseHawk and makes it simple and fast to implement through complete automation. Prepackaged hybrid fiber coaxial network noise (NAIL) reports show technicians exactly where the cable signal leakage or other noise source is and when to go to fix those challenging RF noise issues.
NAIL reports are automatically generated.
Prepackaged noise reports are ready for dispatch.
Identifies location, time and type of noise, along with instructions on the network component that is the most likely source.
Can be on-demand or generated automatically based on alerts.
System map overlays show which network components to work on and provides real-time updates to show whether the maintenance was successful.
The AI engine learns continuously, further refining accuracy.
Massive Immediate Savings!
NoiseHawkAI saves operators money instantly in the following areas
Provides instant feedback to prevent swapping of perfectly good CPE, even before the Noise issue is resolved

Saves on truck rolls @ $125/each to customer homes.
Prevents cost of refurbishing CPE and No Trouble Found (NTF) fees - over 80% of technician-returned CPE are fully functional @$8-12 each just for Clean & Screen.
Eliminates the need to purchase inventory to replace the in-transit CPE going to and from refurbishment centers - even more critical with today's components shortages.
Reduces churn and increases customer satisfaction.

By quickly finding and identifying the noise issues, even more savings can be found

Plant maintenance technicians can solve the issue in one stop in most cases, reducing additional truck rolls @$125/each × 8 trips on average.
Call center traffic is reduced as customers are not disconnected during the troubleshooting process.
Plant maintenance technicians are freed up for more proactive tasks, rather than spending 75% of time chasing noise issues.
Customer satisfaction improves as extended low Quality of Experience (QoE) periods are avoided.
These are a few of the immediate cost-savings that can be recognized with NoiseHawkAI.
Start saving today by requesting a demo