Cable Modem Test Platform version 2
Up to 20 devices tested continuously in parallel
Promptlink's Cable Modem Test Platform version 2 (CMTPv2) is a next-generation SNMP-based tool designed to test the functionality of DOCSIS/EuroDOCSIS cable modems, Wireless CMs and EMTAs. This system allows MSOs, Cable Modem OEMs and Independent Test Laboratories to perform testing and verification on any cable modem-based device faster and with more features and speed than the original, industry-standard CMTP.
Support of DOCSIS 3.1
CMTPv2 has broad support for all DOCSIS environments and even offers support for new higher-speed DOCSIS 3.1 devices. It continues support for all equipment vendors, impartially treating each vendor's devices with maximum performance and minimum hassle.
Fully Automated Parallel Testing
CMTPv2 is fully automated, requiring no user input for testing, and now tests all devices in a parallel mode that doubles or triples throughput compared to the original CMTP.
Repeatable and Reproducible
The Promptlink test platform creates an easy, repeatable process that requires no specially trained personnel. The combination of purpose-built hardware and feature-rich software creates a solution to the issue of returned and suspect cable modem-based devices that need testing by non-technical personnel.
Advanced Wi-Fi Testing and More
CMTPv2 tests the basic Cable Modem, Wi-Fi and EMTA parameters as well as offering a shielded Wi-Fi testing environment for accurate testing in the most congested Wi-Fi environments*.
As with the original CMTP, v2 tests each phone port individually, with maximum functionality being tested, plus CMTPv2 tests up to 4 Ethernet ports in parallel.
CMTPv2 can also be configured to upgrade the firmware of the devices in a multi-step and conditional process.
*The level of shielding needed for some testing may require advanced shielding at an additional cost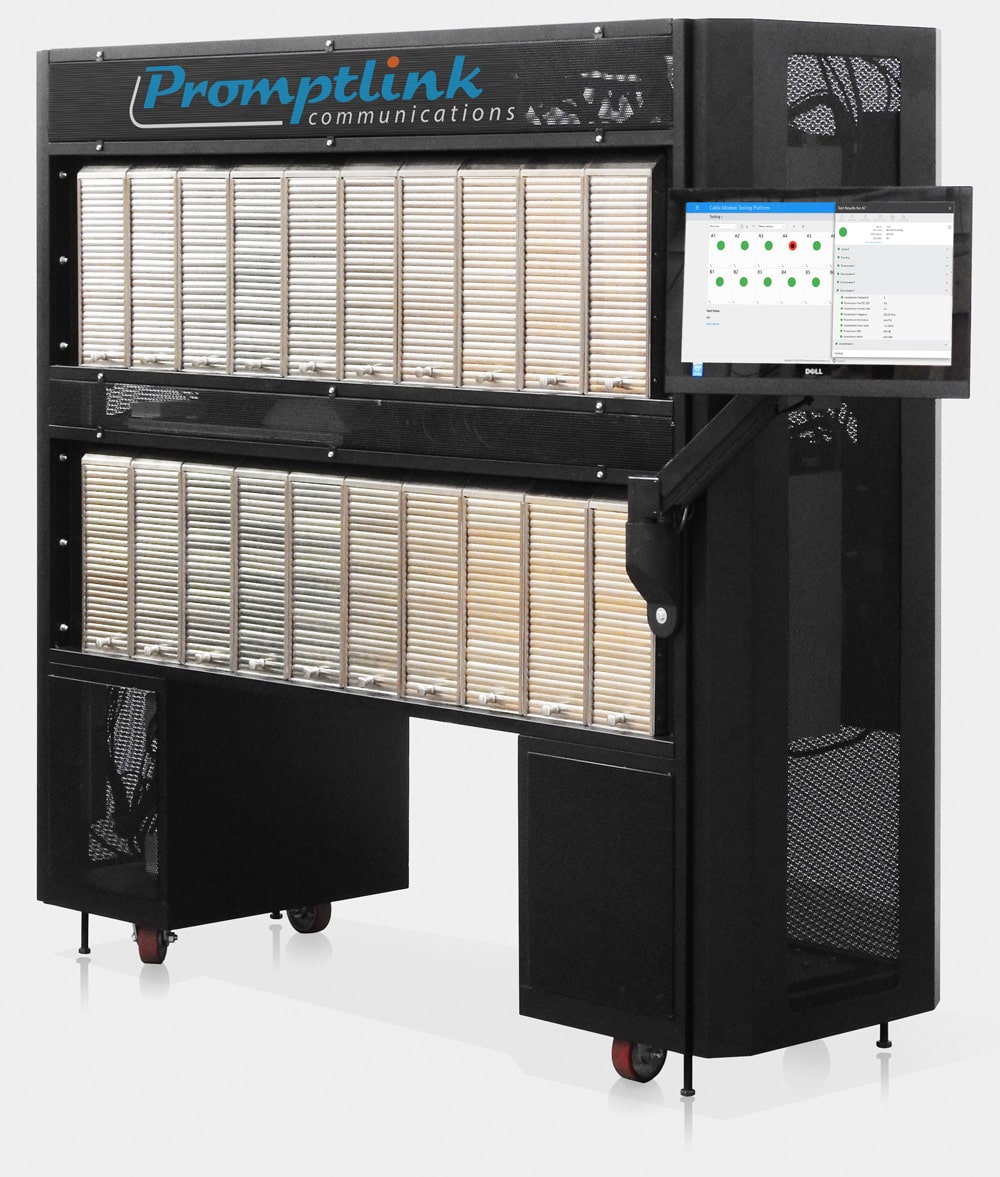 CMTP was designed for automated firmware upgrades and device testing. With the addition of parallel testing, the entire testing process runs in batch mode, testing up to 20 devices automatically and in parallel. No other competitive product comes close to this throughput for mass testing of devices.
Samples and Demo
Please contact us to request an online demonstration of our products.